Based on the top floor of the buzzing Bentalls Centre in Kingston, Satori Izakaya offers the very best in Japanese informal dining with a menu derived from the traditional Japanese pub or Izakaya. Satori is now able to deliver to select areas of London through our "Local Satellite Kitchens" within 11 minutes of your meal being made. Hygiene Rating 5/5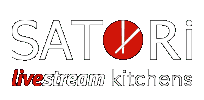 Authentic Japanese Food Delivered
​
No readymade refrigerated boxes, no substitutes for real Japanese ingredients.
​
Delivery Hours: 11:30am - 10:30pm
​
The first conveyor belt sushi bar in Kingston. Informal and relaxed self service restaurant.
Specialised in Robatayaki, charcoal grill Japanese barbecue. Informal dining.
Formal Japanese dining with a separate menu and multi course Kaiseki meals.
Conveyor belt sushi bar with sharing benches, informal dining with small sharing dishes.
Used for party catering and promotions. Very popular in Kingston market square.
Show More
My favourite sushi place by a mile. And that includes everywhere I went in Japan!
Restaurant Opening Hours*
Mon - Fri: 11:30 am - 3:00 pm
Sat: 11:30 am - 6:30 pm
Sun: 11:30 am - 5:00 pm
​
*Last orders one hour before closing time
Delivery Hours
Mon - Sun: 11:30 am - 10:30 pm
To contact Satori, call or fill in the form below