With a menu of classic favourites, our award-winning restaurant takes you to the timeless era of high-end Tokyo Style Cuisine. Try the freshest fish of the day or a Katsu curry, mild and full of subtle flavours. Established in 2003 and TripAdvisor's top 10% choice of restaurants worldwide in 2020, Satori now delivers to your door through our local satellite kitchens.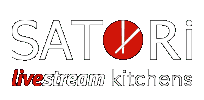 Authentic Japanese Food Delivered
​
No readymade refrigerated boxes, no substitutes for real Japanese ingredients.
​
Delivery Hours: 5pm - 10:30pm
The first conveyor belt sushi bar in Kingston. Informal and relaxed self service restaurant.
Specialised in Robatayaki, charcoal grill Japanese barbecue. Informal dining.
Formal Japanese dining with a separate menu and multi course Kaiseki meals.
Conveyor belt sushi bar with sharing benches, informal dining with small sharing dishes.
Used for party catering and promotions. Very popular in Kingston market square.
Show More
My favourite sushi place by a mile. And that includes everywhere I went in Japan!
Restaurant Opening Hours
Our restaurant is closed until further notice
Delivery Hours
Tue - Sun: 5pm - 10:30pm
To contact Satori, call or fill in the form below